Atlantic Fasteners Aerospace Guarantees Outstanding Service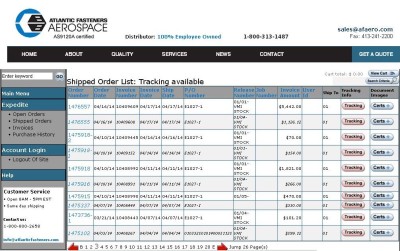 Low Minimums
If you're frustrated by the high minimums, long lead times, and overall indifference of some aerospace suppliers, try us.
It won't cost you a lot since our low minimums are $10/line and $20/order. And unlike the big firms, it's easy to buy from us.
PLUS, Atlantic Fasteners Aerospace is able to react quickly to meet your fastener and hardware needs due to our personalized customer service and automated systems.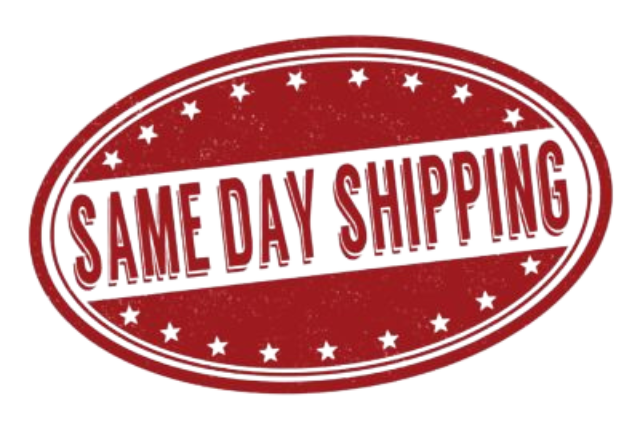 Same Day Shipping
No time to wait for parts? No time to expedite orders?You do neither when you buy from Atlantic Fasteners Aerospace since we ship in-stock parts the same day, at your request. Barcoding tracks every box within our warehouse and ensures accurate picking, while electronic imaging allows us to link important documents to corresponding parts. That makes order processing a breeze.
Inventory Management
Let us manage your inventory so you don't have to. With over 20 years of experience in designing custom, bar-code-based VMI programs, our team of inventory managers delivers your product on time in the measured quantities you request, while retaining lot control and maximizing your profits.
With our barcode-based vendor-managed inventory (VMI) program you can expect:
Efficient, monthly invoicing that combines all orders
A selection of management reports by stocking location
Onsite scanning by us, whether you have centralized inventory or you store at point-of-use
The option of having us receive and restock your shelves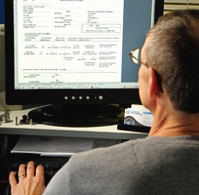 Traceability
Document imaging provides fail-safe traceability to our parts and quick retrieval of documents when you need copies.
As an AS9120B certified firm, Atlantic Fasteners Aero has a fully documented process for providing lot traceability back to the source through integrated barcoding. You can count on us for impeccable processing and record keeping, including:
Computerized imaging for mistake-proof storage of customer purchase orders, certifications, blueprints, confirmations, and vendor invoices
Quick, accurate processing with complete chain of custody verification
Fast, easy retrieval and sharing of documentation via email or fax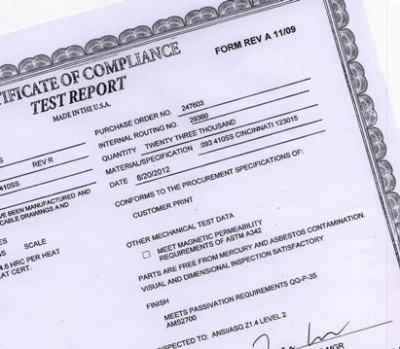 Manufacturer Cert Access
Instant Cert Delivery
Due to integrated imaging, we can email or fax your misplaced certs instantly.
If the certs we send get misplaced or lost, we can replace them instantly by email or fax by accessing our scanned archive of images. All orders are linked to appropriate paperwork for fast and accurate retrieval.
Online Access to Certs
If certs are easily misplaced at your firm, we can set you up for easy access to them. No phone calls. No waiting.
For more information, call Mike Gross at 413-241-2202.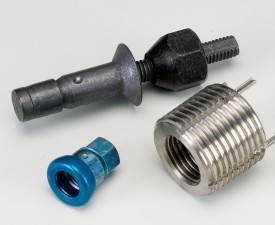 Help with Problem Parts
Contact us today for hard-to-find items and exotic materials.
When you need to cross-reference fasteners or locate obsolete or hard-to-find parts, whether specially designed or made from exotic materials, we can help. It's a specialty we take pride in offering.
Heli-Coil®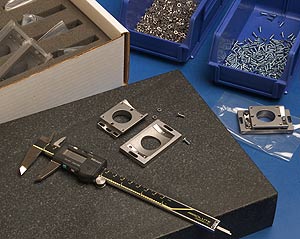 Packaging & Billing
Special bagging requirements? No problem, Atlantic Fasteners Aerospace has the solution.
We will work with you to identify your packaging needs - whether that be waterproof, greaseproof, heat sealed, Ziploc® bags, or a different option.
Do you have to cut multiple POs for single assembly supplies? Try the Atlantic Fasteners Aerospace Kitting Program.
Our kitting program will free up manpower and speed up your production process. Not to mention help you optimize storage and warehousing to help you avoid waste. Which will lead to better inventory management and improved business profitability.
Interested in package labeling support?
We can help by providing labels with your own part numbers, bar codes, and most other special requirements.
What about specialized billing requirements?
Atlantic Fasteners Aerospace can also provide a variety of specialized billing options such as invoicing by kit project number. And we accept VISA, MasterCard, and American Express.
We guarantee outstanding services like low minimums, same-day shipping, quick quoting turnaround, callbacks when promised, online access to certifications (FREE), document imaging for increased part traceability, and 100% customer satisfaction.